BLOG

Everyone deserves to live in a world free from violence. The sad reality is that GBV (gender-based violence) persists, affecting people every day because of their sex, gender identity or expression, or bias.
Gender-based violence is a blatant violation of human rights. It is essential to break the silence about it.
---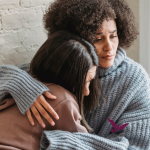 For some people, the festive periods can be marked by an increase in domestic violence, particularly at Christmas.
---
OTHER RESOURCES
Bureau de santé Porcupine Health Unit
http://www.porcupinehu.on.ca/fr/
Gouvernement de l'Ontario :
https://www.ontario.ca/fr/page/nouveau-coronavirus-2019#section-0
Organisation mondiale de la santé (WHO)
https://www.who.int/fr/emergencies/diseases/novel-coronavirus-2019
Gouvernement du Canada :
https://www.canada.ca/fr/sante-publique/services/maladies/2019-nouveau-coronavirus.html
Ce que les parents doivent savoir sur la COVID-19 :
https://www.unicef.org/fr/coronavirus/coronavirus-ce-que-les-parents-doivent-savoir
Comment parler à votre enfant de la COVID-19 :
https://www.unicef.org/fr/coronavirus/comment-parler-a-votre-enfant-de-la-maladie-a-coronavirus-covid-19